To say that February was a terrible month for me reading wise, is an understatement in my opinion. Although... as Goodreads kindly informed me, to my biggest shock and disbelief, I did manage to read four books last month.Somehow.. Just barely.
Somewhere at the start of the month, I got into a really bad mental state and attitude towards reading, or more like towards my TBR list, to be specific. The amount of contemporaries on it were suffocating me and my love for reading, to the point where I literally dreaded the thought of it..
So I spared myself some more mental breakdows over it, scrapped it completely, and picked up something completely different as to what I had planned to read...That's to say...I literally didn't read a single book that was on my TBR for the last month. Not a single one of the following four books were planned. They were all
oopsies
that ultimately saved me from my depressing reading slump.

1. "Milk and Honey" by Rupi Kaur
RATING:
★★★
★
☆
/
4
/5
When novels didn't work for me...to the point where I literally hated every word I read, I turned to poetry, which was one of my goals for 2017 anyways, so I thought it would be a win-win situation either way to pick it up. And boy, it was!!
This compilation of poems was so masterfully done, so impactful and meaningful. Every word in this book honest to God came from this woman's soul and heart, and it ultimately made something spectacular!
This was poetry like I've never seen it before, accompanied by stunning visual sketches. It was just so beautiful, and I recommend this to every woman and man...This book speaks nothing but the truths that need to be heard in our world NOW.
2. "Foster" by Claire Keegan
RATING:
★★★
★
☆
/
4
/5
This was technically a short-story read for my English class, but since this wrap-up is already sad enough, and I actually loved the writing in this one, I thought I'd include it anyhow...
This is set in rural Ireland, in late 70s-80s, against the background of a country held on a leash by the Catholic Church...However, this story managed to be so much more, and SO BIG in under 100 pages. It was metaphorical and insightful and made for interesting few English class discussions hehe.
I'd recommend it to anyone that's up for a short story, which
will
leave you thinking.

3. "Instructions For A Heatwave" by Magge O'Farrell
RATING:
★★★☆
☆
/
3.5/5
I received this as a birthday present from one of my friends at the start of the month. The concept of this story intrigued me, as there was a notion of a dad going missing, and a family that had drifted apart, being forcefully dragged back together. It was also an Irish family living in England, which I felt like reading more of after how much I enjoyed "Foster"...However, this was quite different from that.
There was that intention of a family drama, but ultimately, I felt like there was more character development in all of the characters, than the family drama and the mystery summed up together.
That said, it didn't make the book boring or bad...but it simply wasn't what I'd expected and wanted at that point. However, I do believe this book would work very well for someone looking for some very detailed character developments, with a sprinkle of mystery and family drama.
4. "Caraval" by Stephanie Garber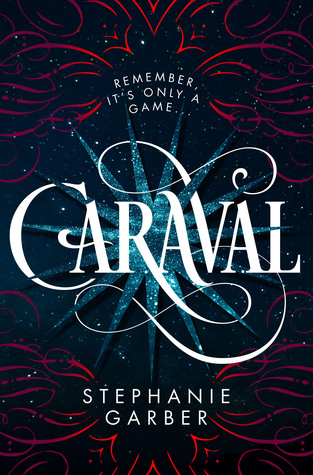 RATING:
★★★
★
☆
/
4
/5
By the end of the month I was feeling a lot more like myself, and so I concluded that my reading slump had retreated to its dark cavern for another little while, and so I dared to pick up something a little more standard and usual for me...a YA fantasy.
I've heard buzzing noise about this all over the blogasphere, and so to say the least, I was curious and tempted when I saw this in the library, on the 'new releases' shelf.
I picked it up, I read it in the last three days of the month, and enjoyed it quite a bit, although I had some small, teeny-tiny issues with it, and it did mess with my head considerably,
I'm still planning on picking up the sequel when it is released next year
(?????? why so far away *cries*).
You can find my full review, and my thorough thoughts
here
.
MY MARCH, 2017 TBR
After the epic-fail that was my last TBR, I'm being quite careful about this one, and I'm going to keep it short and sweet for the month of March. So if I happen to actually read all of these, I can actually write a wrap-up without the crippling shame haha. So here goes my very underwhelming TBR for the month of March.
"Seraphina" and "Shadow Scale" by Rachel Hartman
I've already made a little dent into the first book, and although I'm finding the world-building and the language being used quite difficult and intricate, I'm hoping that I will eventually get comfortable with it, and enjoy the actual story line better...It's about dragons and music...what else would you want?
I'm excited to find out more about the world, and the mystery behind all of these characters!
"Three Dark Crowns" by Kendare Blake
Another one that I've seen all over the place, and it's getting decent reviews so far, and the concept of the story excites me, so here's to hoping I enjoy it, despite reports that it does have a slightly slow start...which I'm not great with, but I'll be brave and try to survive it, just to see what's beyond it haha.
"Steelheart" by Brandon Sanderson
I've been told that this is amazing, and anything by Brandon Sanderson...I mean, I just automatically assume that it's going to be amazing, and will blow me out of the waters.
Super excited to read this, and to experience the magic of Sanderson's writing once again!
That wraps up my TBR for March, 2017!!
Tell me in the comments below how your reading went in February, and what you plan to read this month? Have you read any of the books mentioned, or do you maybe plan to? Tell me down in the comments down below. Every single one is greatly appreciated!
All the love,
Samanta.