At the start of the new year, I set myself a brand new Goodreads' reading goal for the year. Last year I tackled my 40 books goal, which might not seem like much for most people, but for me, as a really picky reader, this was a lot. For whatever reason though, I felt like I could up my own game in 2017, and I set my goal at 50 books.
As nervous as I secretly am, I am happy to report that I read 5 books in January, and am currently 2 books ahead of schedule...Only 45 books, and 11 months to go...*nervous chuckling*.
Anyways...After a pretty decent month of reading, here I am, happy to be bringing you my January wrap up!
1. "Crooked Kingdoms" by Leigh Bardugo
RATING:
★★★
★
★
/
5
/5
My last read of 2016 was 'Six Of Crows', which I had been meaning to read for literal ages. I finally did, and holy mother of God...it was so good!
Whether you've read this book or not, all I'm going to say is Jesper and Wylan are my babies, and also Kaz Brekker is my son, and no one better touch my thieving and bomb-making little sons, or they'll have me and my cap locks to deal with!
This duology was honestly so entertaining! Once you start, there is literally no going back, because you get so invested with these characters you just have to see them through every fight and battle.
It was so good, and I adored how this duology wrapped up. Although I'm secretly hoping for a continuation or a spin-off hehehe.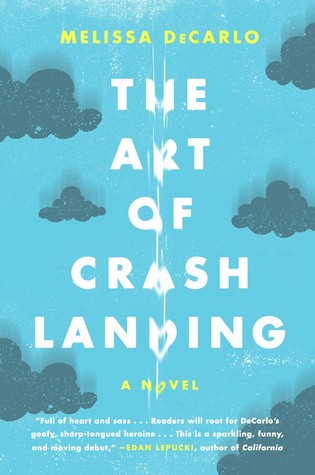 2."The Art of Crash Landing" by Melissa DeCarlo
This one I randomly picked up from the library shelf when the title caught my eye. Like honestly...that's one hell of a title. And it fit the story perfectly too! This book is about a young-woman who's life is in turmoil and she travels to her mother's hometown in an impulse and out of desperation. She ends up finding more than she anticipated in this town, including answers to questions that had kept her restless in her own skin.
I liked this story well enough. It was relaxing and calming after reading a few fast-action fantasy books. I think I picked this book up at exactly the right time, and it really helped my enjoyment of it.
The main character was really relatable and the plot was interesting enough that it kept me reading, but it wasn't mind-blowing or heart-breaking the way a five star read would be for me.
3. "The Diabolic" by S.J. Kincaid
I had my doubts going into this one, just because the concept sounded like it could really easily run into a cliche, so I was quite apprehensive. However, I read it, and I enjoyed it quite a bit.
It was a cool, YA science-fiction/fantasy, and had some pretty cool scenes and images.
I liked the concept of the universe in which this story is set in, and mostly, I was really warmed by the underlying message of marginalization that I found in this book.
4. "The Unseen World" by Liz Moore
This was my second 5-star read of the year, and it came somewhat as a surprise. I picked this book up knowing only very vague details about the plot. Therefore, I didn't really have many expectations at all, which I feel was the reason why I had such an amazing experience with this book.
This also entailed some important aspects of LGBT+, and the community's experience in 1980s.
It was really engrossing, it pulled me in and didn't let me go till the last page. It broke my heart and put it back together, all while making me feel nostalgic as hell. Overall, it was lovely and I recommend this book to absolutely everyone!
5."The Smell Of Other People's Houses" by Bonnie-Sue Hitchcock
This is another one with great characters who pulled me and had me by my heart strings throughout the whole book.
I adored the simplicity of this book, and the story that it told. Although it had a slow beginning, in my opinion, it eventually hit the ground running and didn't stop until it wrapped up in a really satisfying and gratifying way. It was so heartwarming and honest, I loved it!
I would recommend this book to everyone, especially if you're someone who has a few hours to sit down and read it all in one go...I think maybe this book would be enjoyed the most in such manner as it is well-paced and quite short.
That wraps up the list of books that I read in the month of January, 2017.
Tell me in the comment below what you've been reading this year, and which of the above books caught your eye, or you've fallen in love with previously?
Let me know in the comments bellow. All comments are massively appeciated!
All the love,
Samanta.